Noisy Nora
Written by Rosemary Wells
Illustrated by ROsemary Wells
Reviewed by Genis A. (age 6)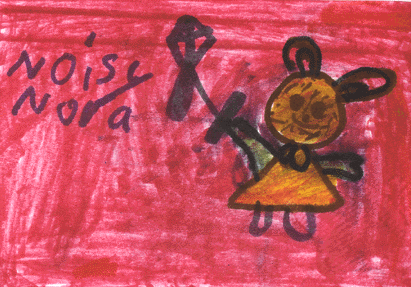 The story is about Noisy Nora making noisy. The story took place in the house. The book is about a little rat. The story is about a family of rats.
Do you like to be like Noisy Nora? Noisy Nora was making noises because she wanted somebody to hear her. There were a lot of noises. I like the part when Jack was taking a bath and Noisy Nora had to wait.
The story teaches about places in the house. It reminds me when I was little and I learned to be a noisy girl. I love the story.
The story teaches me to be noisy. I like the story because it's was about noisy Nora.
I love the book and you will too!