Harry Potter and the Half-Blood Prince
Written by J.K. Rowling
Illustrated by Mary GrandPre
Reviewed by Lilah R. (age 9)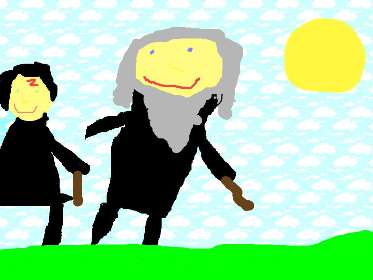 Harry Potter and the Half Blood Prince is a wonderful book. It is about Harry and Dumbledore's relationship. In the beginning of the book the Minister of Magic is bugging the Muggle Prime Minister. He keeps doing that throughout the year. The muggle prime minister is confused. Belatrix and her sister, Narcissa, are going to Snape's house because Malfoy is being a Death Eater for his father and they make him do the unbreakable vow for making Malfoy's safety. Dumbledore comes to Harry's house. They go to a man's house. The man says he will be a teacher at Hogwarts. Harry thinks that he will be the Defense Against the Dark Arts teacher. Then he goes to the Weasley's house. They are very surprised. When they go to Diagon Alley it is deserted, except for Fred and George's joke shop. Fred and George's joke shop is very much alive. Then they go to Hogwarts. Harry suspects Malfoy is a Death Eater so he eavesdrops on Malfoy. Malfoy hears him, so when all of his friends are gone he freezes Harry and breaks his nose. Tonks takes him back to the castle. The next morning Harry and Ron are having fun during their free period. Read this book to find out if the teacher that Dumbledore takes Harry to visit becomes the Defense Against the Dark Arts teacher.
I loved this book because it has very, very funny parts. Like when the teacher that Dumbledore takes Harry to visit has disguised himself as an armchair. It is also funny when Ron gets poisoned and is in the hospital wing. His "girlfriend" is there and he mutters Hermoine's name and she gets very mad at him and storms away. My favorite part of the book is when Harry takes the luck potion that he won. He felt a little too lucky and begins to joke around a lot. You will laugh out loud if you read this book.
I recommend this book for people who love Harry Potter books. This is the funniest book in the Harry Potter Series. People who like adventure and funny things will love this book. I hope you read this awesome book!