Oops!
Written by Colin McNaughton
Illustrated by Colin McNaughton
Reviewed by Adrian P. (age 6)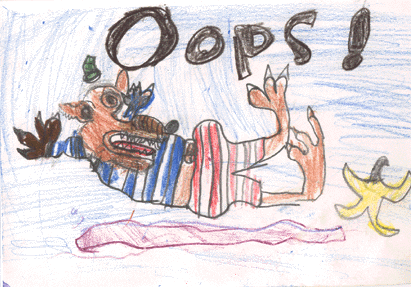 The book is about a wolf that chases pigs and his name is Mr. Wolf. The wolf said I am hungry. He wanted to eat Preston the pig. The wolf follows him to the bushes and he gets stung by bees. Then he was scratching his bottom. He was really, really mad at Preston.
The funniest part was that he was stung by bees. My favorite part is when Prestons father came to save him and he was so mad at the wolf. This story reminds me of my dad when he was so mad at me and my brother too.
I learned that you should not be next to a wolf.