Henry and Mudge and the Bedtime Thumps
Written by Cynthia Rylant
Illustrated by Sucie Stevenson
Reviewed by Rose J. (age 7)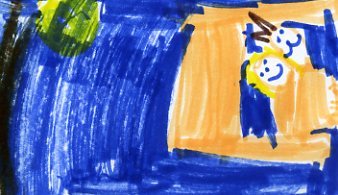 This book is about when Henry and Mudge go with their family to their Grandma's house for a sleepover. It is exciting to read because Mudge gets into a lot of trouble and has to sleep outside! One thing he does that gets him in trouble is that he knocks things over with his tail and makes a big mess.
My favorite part was when Henry went outside to sleep with Mudge. This is my favorite part because it shows how much Henry cares about Mudge. If I had a dog I would do that too. I have read a few Henry and Mudge books and I like them all because they are funny and they always have a happy ending.
This book reminds of a time when I went to my Grandma's and slept over just like they did.
Readers who like silly dog stories will love this book.