Wolves of the Beyond (Lone Wolf)
Written by Kathryn Lasky
Reviewed by BD (age 10)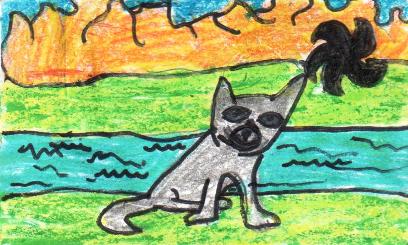 Faolan clutches onto the ice after he is abandoned. He is abandoned at the river, during the season of the cracking ice. It was all the obea's plan, for him to die in the river, because he is a cursed pup. As a cursed pup, he must be discarded, as will the mother, to another clan, to keep the blood flow in the clan clean and precise and"perfect." But, a mother grizzly bear saves him, and teaches him all he needs to know, like: how to fish, how to hunt, how to climb in trees, and even how to stand on his hind legs. But, when hibernation comes, something horrible happens, so if you want to find out what happens, read the book.
This book is excellent (in my opinion), the author uses unique styles to write. She uses excellent descriptive words, so that I can even see what is happening in my head when I read it. But, there are some downsides, like some of the words are hard to read and understand (mainly because they're a made-up language, old wolf to be exact). Some parts are a little, how should I say this…bloody, though.
I recommend this book for children with a 4th-8th grade level. Also for children who like: wolves, adventure, and, in some of the book, comedy and sadness. I recommend it to people who like long books and, books with only a map and three pictures. I do NOT recommend this book for people that do not like reading about blood and sadness. I wouldn't recommend this book to kids who cry if they see an animal hurt (like I used to be).