Junie B. Jones and the Stupid Smelly Bus
Written by Barbara Park
Illustrated by Denise Brunkus
Reviewed by JH (age 10)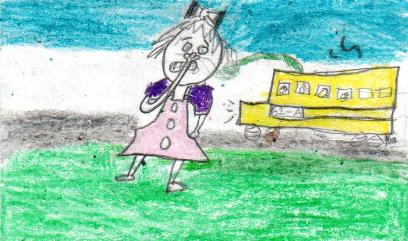 Junie B Jones and The Stupid Smelly Bus is a hilarious book. It is about a little girl 5 or 6 years old going to school for the first time. Her mom told her teacher that she needs to ride the bus and when she got on the bus there where kids that she didn't like because they took her seat and she wanted to sit with her best friend named Sarah. The next day Junie didn't want to get on the bus to go home so she made a terrible mistake. She hid in school; she hid everywhere in her classroom-- under the desk, in the janitors closet, and other places.
I liked this book only a little but not that much because it showed only a little bit about where she hid. I think the book needs more details about what she did in school because it only talked a little about where she hid and who found her. When I read this book, I started to laugh because the author put a lot of funny stuff that Junie says. If you read this book you are going to think this is an interesting book because the characters in this book act funny like Junie B. Jones screaming a lot for no reason. I think the vocabulary in this book is good because the author put a lot of strong words in his details. The character that changed in this book is Junie because at the end of the story Junie changes her attitude and she starts to like and ride the bus because of her best friend.
Kids who like school probably will like this book. I think this is more of a girl book because the main characters are girls. If your teacher assigns you to read a Junie B Jones book, don't worry they are ok to read.