Geronimo Stilton Paws Off Cheddar Face
Written by Edizioni Piemme
Illustrated by Mark Nithael , Kate Steven
Reviewed by BT (age 11)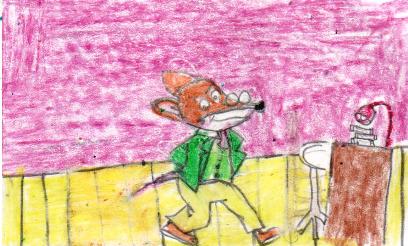 One day a rodent named Geronimo Stilton was walking in the street on his way to work. An old lady bops him on the head with an umbrella. Then his friend, Benny Bluewhiskers, told Geronimo "Some friend you are." Geronimo looked confused. "How could you do that to me last night?" said Benny. Read to find out who or why they did that to Geronimo.
I thought the book was really good because it explains words that we might not know. I like this book because it uses words like New Mouse City instead of New York City. The reason I liked this book is because the author helped me understand the story by illustrating some pictures. The reason I don't like this book is because some of Geronimo's family were mean to him just because of the evil twin. Although it was a sad book, it was hilarious, too. Actually, it was pretty funny when he got hit in the head by the old lady. But that's also sad because he got hurt. If I were a character in the story I would be Thea. That's because Thea lets Geronimo in her house when she knows about the evil twin.
I recommend this book to 3rd, 4th and 5th graders. The reason I recommend this book to 3rd, 4th and 5th is because some like comedy, adventures, and sad stories. This is the book for you if you can handle funny but sad at the same time. . There are many interesting things but you have to read to find out what the clone does to Geronimo's career.