Hachiko Waits
Written by Leslea Newman
Illustrated by Machiyo Kodaira
Reviewed by JS (age 10)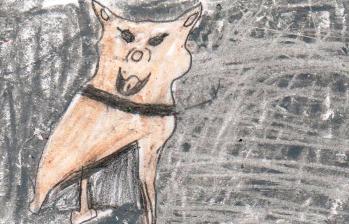 This book is about a intelligent, caring Akita dog that waits for his master every day at a train station in Tokyo. One day his master died and the dog stayed at the train station still waiting for his master to come home. Finally, l one day a boy took him home and gave him food and shelter. They would walk him but he got loose and ran to the train station. For ten years, the dog waited for his master every day. People felt sorry for him and began to feed him bits of food. At long last, Hachiko himself passes away and is reunited with his master.
One thing I found interesting was that Hachiko seemed to be able to tell time and was trained really well. If I were a character in this book I would be Yasou because he is a caring and intelligent young boy who took care of Hachiko. One thing I liked about this book was that Hachiko was a loyal and caring dog. I was surprised this was actually a true story from Japan. They even have a statue of Hachiko at the train station today. Unfortunately, the movie is not very true to the book.
The people who should read this should must be able to read very well. I think if you are a fifth grader you might enjoy this book better than a third or fourth grader.