Star Wars Character Encyclopedia
Written by Simon Beecraft
Reviewed by AA (age 9)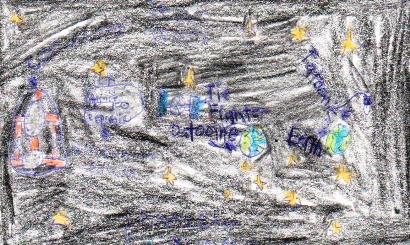 This book (Star Wars Character Encyclopedia) is based on information from all six Star Wars films. For example, did you know a Gamorrean Guard has weak eyes? If you don't what a Gamorrean Guard is, you should read the book. Also, did you know Chewbacca is 7' 6'' tall? If a human was that tall he or she would have to duck to go through a door! If you want to learn more about your favorite Star Wars character you should read this encyclopedia. It is not like the ordinary encyclopedia. It has lots of pictures and information about ALL the Star Wars characters! Also you will learn more about their lives. If you read more about this book you might learn the way of the force and help defeat the Empire and know what will happen next!
Every page has pictures from the movies and a picture of the person themselves in the year 2011! The pictures really help describe the characters you are looking at. My favorite part is the "see also" part. For example if you're looking at Han Solo and you look at "see also" it says Chewbacca and you go to Chewbacca's page. It tells a little more about Han Solo. It was worth reading a sort of long book if you're a Star Wars fan like me. Because the book is set up as an encyclopedia, you can read just small parts about whatever you are looking for. It can save time when you don't have to read the entire book cover to cover to find out what you are looking for. I am glad the pictures were in color. That made them more interesting and informative. All black and white photos like some other books have would have been boring.
You can tell or read your friends this book so they will learn more about the Star Wars saga. Instead of you explaining the whole thing to them, let them read the whole book them self. It is not hard. Iit's around grades third and up. Only you can help defeat the Empire. The galaxy is not so far away any more. May the force be with you.