Bridge to Terabithia
Written by Katherine Paterson
Illustrated by Donna Diamond
Reviewed by McKenzie G. (age 14)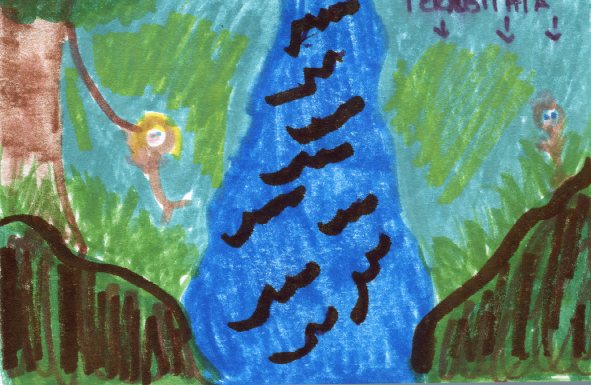 It's hard enough being the only boy out of five kids, and on top of that, mom favors the girls and dad is always on the job. So when Jesse loses a race to his new neighbor, Leslie Burke, things change for him. He and Leslie become best friends. With his passion for drawing and her enormous imagination, they create Terabithia. When Jesse is with his music teacher, Miss Edmunds, something goes terribly wrong in Terabithia. Will Leslie get crowned queen, or will someone else?
Jesse changed his whole attitude after he met Leslie. He was miserable and ungrateful of his family but, as he came to know Leslie, he began to appreciate things. My favorite part was when Leslie beat Jesse in a race at school. I liked this part because it was when they first met and it was kind of amusing that Jesse lost to a girl. To me, Leslie was the most interesting character in the book because she wasn't your usual girly-girl. She was a tomboy who had the best imagination. The illustrations helped me form pictures in my head. I loved this book and I think it's one of the best books I've ever read.
I have learned a lot from this book. I've learned that you should make the best out of situations because things could change a great deal. I also learned that by losing someone you can learn something about yourself. When Jesse lost Leslie he realized not to take his sisters for granted.
I would recommend this book to everyone. It's fit for all ages and genders. It's motivating and inspiring. You're crazy not to like this book. Who doesn't want to feel the emotions the characters are feeling? You can learn from this story so I suggest you read it.