The Witches
Written by Roald Dahl
Illustrated by Quentin Blake
Reviewed by Carol N. (age 9)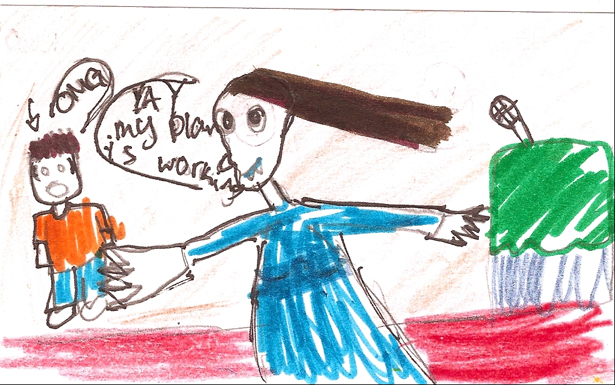 Who likes witches? Well if you do then read The Witches. In the book, down in the earth there are witches around you. If you don't want to get lost I'll tell you how a witch looks. Witches always wear gloves. Witches have icy fire in their eyes. They wear first class wigs. Witches don't have nails. They have long noses hiding behind their masks.
Another thing about the witches is they hate kids. A little boy lived with his grandma. His grandma knew everything about witches. So then the boy find out everything his grandma told him was true. If you want to find out, read it.
My opinion about this book is that it's great. My favorite part from the book is when they turn all the witches into mice because it was funny when they actually turned into mice. I liked the boy because he actually got to see all the witches. One of the characters I disliked was the Grand High Witch because she was always doing evil stuff. For example, she was making the boy drink the formula. I would be scared if she did that to me. I liked the illustrations a lot. For example, everything they talked about matched with the pictures. The pictures were in black and white and they looked like old-fashioned people only in cartoons. So I think this book was great.
I recommend this book to my cousin because she likes scary movies and books. If she does read it I would think she would say it's awesome so I recommend this book to my lovely, cool cousin. A part that she would really like was when the chef cuts off the boy's tail because it's kind of a bloody part