Bailey the Bear Cub
Written by . .
Illustrated by Jeska Verstegen
Reviewed by Maria C (age 9)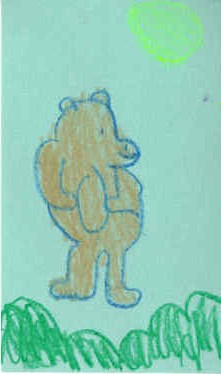 This book is about Bailey. Bailey is the bear cub. His mom sent Bailey to go get his own food. But Bailey saw a squirrel climbing up a tree so he climbed the tree and his mother said ok, get some honey. Bailey was too scared because he thought the bee was going to sting him. His mother said, "don't be scared, your fur is too thick." His mom took him to the river and showed him how to get fish but Bailey was too scared because of the cold water so stood at the edge of the water. At night, mother and Bailey looked at the stars again and Bailey's mother went to sleep. Bailey couldn't go to sleep because he was too hungry. Bailey's mother said that tomorrow he would get his own food. Bailey was too hungry, so instead he went to a tree and took a chunk of honeycomb but he was still hungry. So he went to the river and saw stars in the river and tried to catch them but they would slip off his paw. Bailey grabbed a fish and he ate it and his mother was proud. Then they went back to see the stars and Bailey said to his mother, I will never catch a star because they are too slippery. His mother said you don't need to get me a star because the stars in your eyes are lovelier than the river. He tries to find his own food because his mother said that when you are a big bear, she won't be looking for anymore food for him. Mother tried to show him how to get food. She said, "it's easy find fruits, you put your nose up and sniff the fruit."
My opinion is that Bailey did the right thing to try his best to get his own food. I think it's funny that his name is Bailey and he is a boy. It is funny that Bailey thought that he could reach a star for his mother when he grows up, but when he figures out that he will never reach the stars, he told his mother that he will not get a star because there is no way you can reach the stars in the sky. It was funny when he was scared of bees and he ran up the tree, and his mother said he doesn't have to get scared because he has thick fur and the bees can't sting him, but he still got scared. I think the lesson of the book is that you should never give up and always keep trying because you will never know if you would succeed.
I would recommend this to my little brother because he could learn to never give up and keep on trying because you will never know if you could succeed. He could also learn that whatever you think might not happen like Bailey the bear thought that he could get a star for his mother when he grows up but when he realized that he couldn't reach the stars he told his mother that he couldn't get a star for her.