The Berenstain Bears Learn about Strangers
Written by Stan & Jan Berenstain
Reviewed by valeska s (age 8)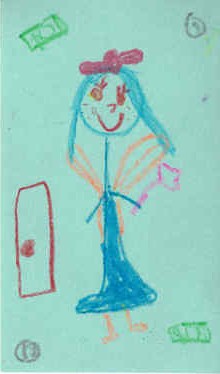 The book is about a brother and sister, and the sister talks to a lot of people, and her brother is scared about her talking to strangers. So he told her that strangers are very, very bad, so don't talk to them. Then she said why, and her brother said, that's a big question for a brother. Why don't you ask Mommy and Daddy? Then their dad gave her the paper to look at, and it showed a man bothering a cub. Sister's eyes got bigger and bigger. When she was about to go to sleep, her dad read her a story about strangers. It scared her. When she woke up, the birds were glaring at her, and owls were staring at her. At breakfast, Brother asked if she wanted to ride bikes, and they ended up playing Frisbee. When they got outside, everything looked mean to Sister, even the balloons! Then their mom came over, and she scared Sister. They went home, and Mama brought apples and opened one to show Sister that there was nothing bad inside. Then she opened one with worms inside, and Sister and Brother said yuck. She compared the apples to strangers. Some are bad, and some are good. Later, Brother wanted to go with a stranger to see his airplane. Sister came over and grabbed his arm because he was about to go in the car with the stranger. Then they went home, and Sister told Mama and Papa what Brother had done. Brother got mad at Sister and called her a tattletale. But they all learned an important lesson about strangers and ate applesauce.
I liked the book because the story was interesting to read. It gave a good lesson about strangers, that you should never talk to them or go anywhere with them. Don't take presents from strangers. I think this book applies to living in New York City very well. I should hold my parents' hands very tight when I walk with them in the city, and never go anywhere with strangers, ever.
I would recommend this book to kids because it teaches a good lesson about strangers. Really small children should not read the book because it might scare them. There are some scary pictures. Maybe kids should be 5 or 6 years old before they read the book. When kids reach school age, they should read the book because you see a lot of strangers when you go to school.