Frindle
Written by Andrew Clements
Illustrated by Brian Selznick
Reviewed by Noah (age 7)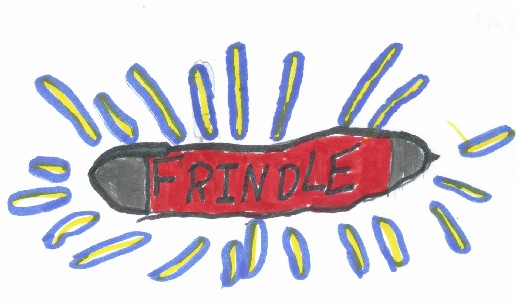 Frindle is a great book by Andrew Clements. It won the Christopher Award. That is given to books that teach good values.
Frindle is about a boy named Nick Allen. Nick learns about words are made in his class with his teacher Mrs. Granger. Nick decides to make up an experiment to see if he can make a word and have it added to the dictionary. He decides to change the word pen to "Frindle." His teacher wants him to stop people from using the word but he can't because too many people were using it. You should read the book to see what happens.
I liked this book because it was funny and exciting. My favorite part was when Nick tried to make his 3rd grade teacher's room look like a tropical island. That was really funny. Nick's character reminded me of me. I like to raise my hand and ask questions at the end of class just like he did. In the story, Mrs. Granger, Nick's teacher, changes a lot. She becomes much nicer at the end.
I recommend this book! It is funny and exciting. I think anyone who has a good sense of humor would like to read it!