The Haunting of Hillside School
Written by Kristiana Gregory
Reviewed by Maryrose M. (age 9)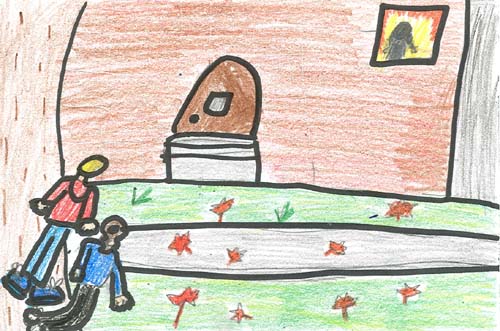 Do you like mysteries? Well Claire, Jeff and David do! This book is about three kids, Claire, Jeff and David who find something spooky! The three cousins find an opening to a room up a scary staircase; nobody has ever been in the room. They find the room in their school. The girl that lived there is dead, her name was Nettie, but they hear classical piano music and they smell gingerbread from the room. Nettie loved playing classical music and her favorite dessert was gingerbread. Find out the rest in the book Haunting of Hillside School!
I thought this book was … GREAT! I loved the way the author wrote it because the vocabulary was outstanding and made the story come to life! Even though there weren't that many pictures I enjoyed the ones in the book they did have because I imagined it differently than the author. This book is in the series Cabin Creek Mysteries. I'm sometimes good at solving mysteries. One of the mysteries I solved is what my brother got me for my birthday, but it was two days before my birthday.
This book has 130 pages. I think everybody from grades 2nd to 4th should read this magnificent book, it will that would knock your socks off! You will enjoy it even more if you like mysteries!