The Clue At The Bottom Of The Lake
Written by Kristiana Gregory
Reviewed by Alex V. (age 9)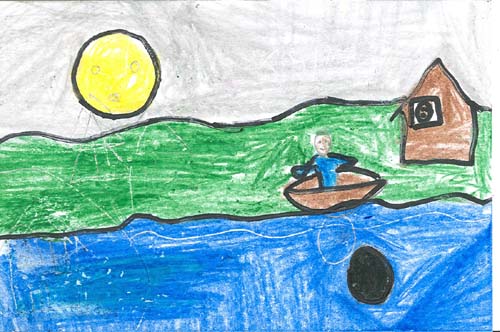 Do you like mysteries? If you do this book would be perfect for you. Three intelligent kids named David, Claire and Jeff try to solve a mystery that Jeff spotted. Someone dropped a bag in the middle of lake but it was the middle of night so the kids don't even know if it was a bag! Jeff thinks it might be a person! Will they solve this mystery? Read this great book to find out more information.
I like this book because the crime was very tough to solve but they still solved it. I think this book is like Scooby Doo because they try to solve tough cases too. I think the illustrations were AWESOME and so realistic!!! My favorite part was when Jeff, Claire and David spotted a bag in the lake because it was suspicious. I also liked when the characters actually had to play hang man to solve the mystery. I liked that because you don't usually see that in mysteries. I thought that the characters were very smart and solved the mystery easily.
I would recommend this book to 8-11 year olds or 2nd-5th graders. This book has 158 pages. People that like challenging books should read this one! This is a great book so read it now or you'll never find out what happened!