Lost Hero, The
Written by Rick Riordan
Reviewed by Riley C. (age 10)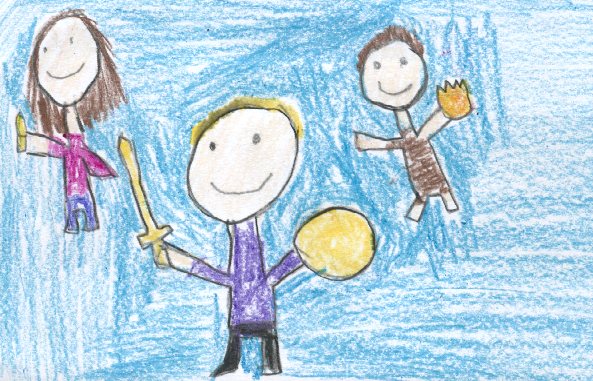 In the beginning of The Lost Hero a teenager wakes up in a bus holding the hand of a girl he doesn't know and talking to a guy he doesn't know. They walk into a museum. He then learns his name is Jason, The girl he was holding hands with was Piper, his girlfriend, and the guy he was talking to was Leo, his best friend. He still doesn't know where he is. He figures out he is in the Grand Canyon when a storm spirit attacks. They get away with other demigods who rescue them.
Once they are there, Leo gets claimed by Hephaestus and Will shows him around camp. After Leo leaves, Annabeth asks Jason to see his arm but he has a tatoo burned onto his arm. She sends him to Chiron. Then Annabeth takes Piper on a tour. She shows her around camp and she picks a weapon. Then Annabeth takes her to the hero cabin and they find Rachel. Leo then gets to his cabin and bed. Leo and Will go to the forge and Leo finds out there is a dragon and he manages to catch it.
The Great Prophecy had begun so they must go on a quest and they need to go to Boreas, the wind god, so they can find Hedge who was kidnapped. They find Boreas in Canada and he gives Hedge back. They then get to Kentucky where a golden king attacks them. Jason beats him. After that, Piper learns her dad was kidnapped by a cyclops. Once they get there, they find him but the cyclops is angry so they must battle. They manage to win the battle, but Jason keeps getting visions and Hera has been kidnapped. She says that they must come to wolf house but many demons attack. They barely defeat them.
I would not change anything in this story because it was very interesting the way it was. I liked the wolves fighting the demigods because it is exciting. Jason is my favorite character because he knows how to fight. My least favorite character is Boreas because he does not help.
I think others should read this story because it is very intersting and very exciting and it takes you on an adventure of a lifetime that you will never forget.