Hunting For Hidden Gold
Written by Franklin Dixon
Illustrated by Franklin Dixon
Reviewed by Scotty Z. (age 11)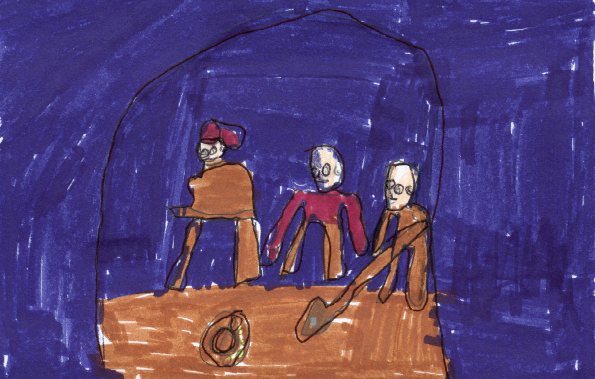 Frank and Joe,the main charecters, have to help their dad, who gets injured on a case. The boys have to go and meet him. They find out that he has broken his ribs, so the boys have to go undercover and take there dad's case. They were pretty far into the case when they get kidnapped.
The person who kidnapped them is a notorious gang member looking for the gold, like the boys. They were taken somewere, but they got out and went on the hunt again. While looking for the notorious gang member, they ended up in a ghost town. The boys saw a lot of spooky things, such as flashing lights in the graveyard, and get chased by a man with a gun. After that, the gang tried to kill their dad.
At the end of the story, the boys found the bad guys getting into a car. The bad guys escaped, but the boys followed them. They chased them into a tunnel, but it took a long time to find the bad guys because the tunnel was really long. The boys found a shovel and started digging. They found gold and at the same time, got the bad guys!
I would not have changed anything in the story because it is a great mystery and has lots of action. My favorite part of the story is when the boys found the gold because it was very exciting. My favorite character is Frank because he's the older brother. My least favorite character is their dad because he's not really in the story that much.
This story is nothing like my life because I don't solve mysteries. There are a lot of pictures in the story and the help explain it. I think that others should read it because it's very easy to read and understand and because you feel like you are a part of the story.