The Kid Who Only Hit Homers
Written by Matt Christopher
Illustrated by Harvey Kidder
Reviewed by Brendan S. (age 10)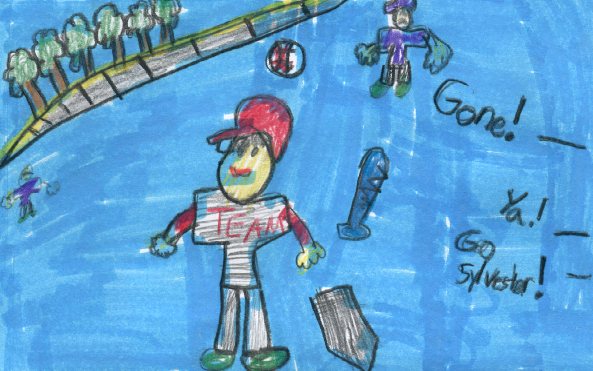 In the story,The Kid Who Only Hit Homers, by Matt Christopher, Sylvester, the main character, doesn't know how to hit. Sylvester tried to play baseball, but he couldn't. One day Sylvester was watching Redbird's practice when a man appeared next to him. This man asked Sylvester why he wasn't out there. Sylvester told him that he wasn't good. The man introduced himself as Mr. Baruth. He was encouraging Sylvester to sign up for the team.
Sylvester thought about it and signed up for the team. Every practice Mr. Baruth was there. Sylvester couldn't hit, field, catch, or throw. When it came to the first game Mr. Baruth was there. Sylvester sat on the bench most of the game, but when it came to his at-bat, he hit a homerun! Sylvester was so exited he couldn't believe it. At his next at bat, he hit another homerun! Sylvester didn't know what had happened to him. He hit homeruns at every game that Mr. Baruth was at. He thought Mr. Baruth was magical. Pretty soon, Sylvester was hitting in the fourth positioin as the clean up hitter. When he tried to talk to Mr. Baruth, he never got a response.
Sylvester's team was doing really well. He kept hitting homeruns. Mr. Baruth told Sylvester that he was moving. The next game happened right ater Mr. Baruth had left. Sylvester didn't know what to do about it. When he was up at bat, he struck out. Sylvester realized that Mr. Baruth was the reason he had been hitting so well. He knew he had to focus at his next at bat. He knew he couldn't hit a homerun, but he did get a base hit all on his own!
I owuld have changed how Mr. Baruth didn't talk that much. I would have had Mr. Baruth tell Sylvester who he really was because I would have liked to have know what he was really like. My favorite part of the story is when Sylvester starting hitting homeruns with Mr. Baruth's help because it was like a miracle. My favorite character is Mr. Baruth because he helped Sylvester realize his dream. My least favorite character is Mr. Beach, Sylvester's coach, becasue he is mean and yells alot. I think he took advantage of Sylvester because he just wanted Sylvester he only started being nice when Sylvester started to hit homeruns.
This story relates to my life because I play baseball too. I went to a hitting coach and after that, my hitting improved. This story doesn't have any pictures, but it doesn't need pictures because of the vivid descriptions the girls gave. I think others should read this story because, especially if you like baseball because it tells what's going on in the story and the plot is really good.