A Series of Unfortunate Events The End
Written by Lemony Snicket
Illustrated by Brett Helquist
Reviewed by Layla T. (age 11)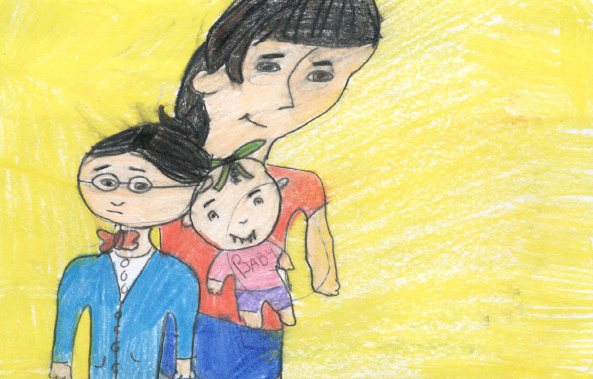 The book,"A Series of Unfortunate Events" written by Lemony Snicket,is, in fact, a series of unfortunate events. It all began on a gloomy day on Bethany Beach. Violet,the inventor and eldest child, Klaus,the middle child and the knowledgable one, Sunny,the youngest child, and the cook with sharp teeth have lost thier mom and dad in a fire that also destroyed their house. Even though their parents were rich, they couldn't inherit their money yetand they become orphans. On the other hand, Count Olaf,an evil man that wanted to inherit their fortune for himself, wouldn't stop or give up on his evil goal.
Months and years passed,and Count Olaf still wouldn't give up on his evil goal. The Baudelaire orphans also figured out that their parents had a haunting secret, but never really figured it out. But, they figured out that they invented a secret club. The orphans tried to escape from Count Olaf and went to an abandoned island. Count Olaf follwed them and disguised himself as their pregnant friend, Kit. His costume looked funny and the kids didn't fall for it. They put him a bird cage bacuase they didn't have a jail cell for him. The Baudelaire orphans also figured out that their parents had been to the island before they were killed. The leader had been giving the islanders a special drink to make them stay on the island also not letting them do anything outside in the real world.
In the end, there was a battle between Count Olaf and the orphans. Count Olaf ended up dead becasue of ths poisonous moss that touched him. Kit Snicket, their friend, also died, but she died by giving birth to a girl. The kids and the baby left the island to start a new life.
I wouldn't have changed anything in the story becasue the way the author writes it makes you feel suspicious and it makes you want to continue reading. My favorite part of the story is when Count Olaf dressed up like a pregnant woman because it was very funny. My favorite character is Violet because she creates very good inventions. My least favorite character is Count Olaf because he is mean to the poor orphans.
This story relates to my life because sometimes my brother used to try to steal my money, but now he doesn't. There are a few pictures than are very interesting, but he author's words are more valuable to me. I definitely think people should read this story because it has crime and intense moments, but at the end, good always triumphs over evil.