The Lightning Thief
Written by Rick Riordan
Reviewed by Steven D. (age 11)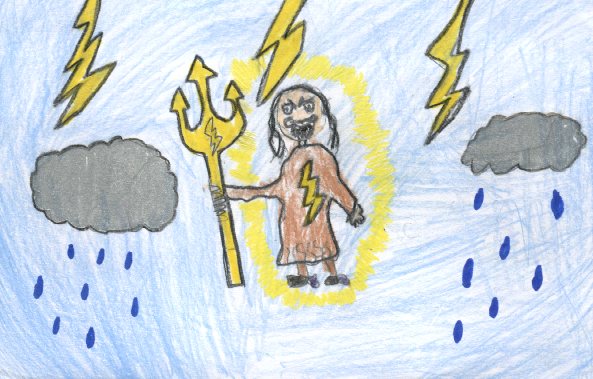 In this story, the Lightning Thief, Zeus's master lightning bolt has been stolen. Percy, a boy that has dyslexia, is almost going to get kicked out of boarding school and is Zues's prime suspect in the stealing of his master bolt. So now, Percy and his friends have ten days to find and return Zeus's stolen item. So Percy sets out to find Zeus's stolen property. Chiron, the camp director gave a pen to Percy that turns into a sword.
Now Percy is on his way to find Zeus's master lightning bolt with his two friends, Annabeth, and Grover the satyr. While they were on their journey, there were three women that were knitting and sitting on rocking chairs. The lady in the middle cut a strip of thread when everyone was about to die. But, gladly, nothing happend to them because they escape from the old Greek women. After all of that, they took a taxi to uptown.
Finally, Percy finds out the truth of who stole the master lighting bolt. It was a boy named Luke, who stole it for Kronos. But Percy and his friends manage to get it back safe and sound. By the winter solstice he goes to Olympus. Then the gods try to decide wether or not to kill Percy, because if he grows older, he might turn his back on the gods and work for Kronos. But the gods decided to leave him alive.
I wouldn't change anything in the story because it is perfect the way it is and I don't think anything could be added to make. Percy was my favorite character because he is the son of Poseidon. My least favorite character is Grover because he really doesn't do anything right. My least favorite character is Grover because he is boring.
This story relates to my and I want you to try reading this awesome book! This story makes me think abou kindergarn. Y think others should read this story because it tells about Greek and Roman mythology which is very intersting to me.