Diary of a Wimpy Kid: Rodrick Rules
Written by Jeff Kinney
Reviewed by Justin M. (age 8)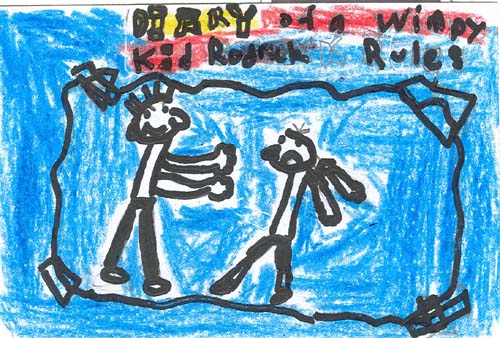 When Greg's mom gives him another diary, his brother Rodrick finds out about it and tries to get a hold of it. When Rodrick gets his hands on the diary he tries to spill out Greg's worst secrets. Will Greg stop Rodrick or will Rodrick tell Greg's worst secret.
This book is really funny. I liked this book because it made me laugh when Rodrick spit milk at Greg in the hotel. I also like Rowley because he says silly things. My favorite part was when Greg had to ride a girl bike to a party. That was hilarious. This book reminded me of the time when my baby sister spit water at me; gross!
I recommend this book to everyone who loves to laugh and read Diary of a Wimpy Kid books. I also recommend this book to people who are in 3rd grade and up.