The Giant and The Beanstalk
Written by Diane Stanley
Reviewed by Michael (age 8)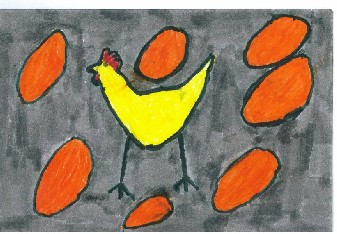 The Giant and the Beanstalk is a fractured fairy tale by Diane Stanley. This story is about a giant named Otto who is a nice giant. Otto's parent's bought him a hen as a pet. the hen lays golden eggs. One day while the giant was sleeping Jack, the human, climbed a beanstalk and stole the hen. Otto the giant went looking for Jack to trade a cow for the hen. To find out if Otto gets the hen back, read the book.
The book was so great I couldn't keep my eyes open because it was so funny and I was laughing so hard. I really liked the character Otto because he is a giant and he is so cool. I like how the illustrator drew the pictures. They were really good. This book is like Jack and the Beanstalk because they both have characters named Jack and there is a beanstalk. I liked this version better.
I think this is a good book for young readers or anyone who loves fairytales. I would definitely recommend it.