The look-inside Easter egg
Written by Pamela Bianco
Reviewed by Amanda B. (age 9)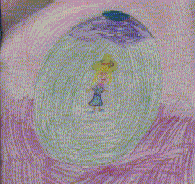 The story begins on Easter. The Easter Rabbit brings Roxana a beautiful look inside egg. Inside the egg you can see a beautiful garden. Roxana wants to find the real garden. She needed the Easter Rabbit?s help to find the garden. After first asking the ducks and the Gray Bunny she finally found him. The Easter Rabbit took her to the garden but made her promise never to tell anyone about it. They had a breakfast picnic in the Garden. Then the Rabbit told her to follow the path to find her way home. On her way home she ruined her Easter hat and so she hid it so her mother would not see it. She decided to tell her mom about the hat and her mom said ?Never mind Roxana go into the parlor and see what?s on the table.? She found a beautiful new Easter hat.
When I read this book, I felt sad and happy because Roxana reminds me of myself when I broke my Mom's lamp. My favorite part of the story was when Roxana got a new beautiful Easter hat because I like hats.
If you like Easter and Bunny Rabbit?s you should read this book.