Harry Potter and The Goblet of Fire
Written by J.K. Rowling
Illustrated by Mary GrandPre
Reviewed by Zofina F. (age 11)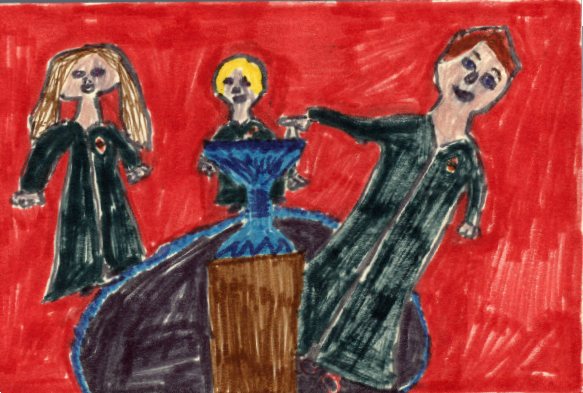 Harry Potter and the Goblet of Fire is the 4th year at Hogwarts for Harry Potter and his friends. There is a special event being held, the Triwizard Tournament. It is a testy tournament where you can't trust just anyone. In the end, it will test love, friendship, trust, and Harry Potter and all he knows. This is not just another great book by J. K. Rowling, it is an adventure like no other.
I thought this year at Hogwarts was phenomenal. I love one character above all though, Ron. The way J.K.Rowling describes him especially and the other characters is amazing. It makes me feel like I'm a student at Hogwarts and I soar on broomsticks and walk through corridors. I can really connect to Harry Potter books-how Ron's scared of spiders, and how Hermionie always works as hard as she can to succeed in her lessons. Being a wizard would be awesome, you'd always be on the run. You'd always be learning new spells, and exploring new parts of the wizard world. Harry Potter is the whole package.
Reading takes you to new places,amazing places. Everybody should read. Some books have facts,some books tell a story in history,and some are just for our entertainment,like Harry Potter. If you're the kind of person that loves adventurous, mysterious books you are gonna love Harry Potter. Harry Potter and the Goblet of Fire is when it all happens. This book is amazing, its all wizards, adventure, suprise,and mystery. Reading this book would make your brain tingle and tangle with suspension. Harry Potter and the Goblet of Fire is the ultimate book ever.