Bonk's New Bike
Written by Maribeth Boelts
Illustrated by Nora Voutas
Reviewed by CV (age 8) & JA (age 7)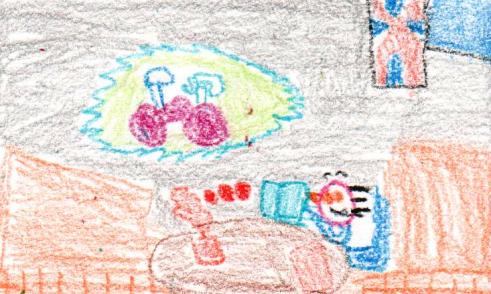 Bonk, a monster, has only five cents, and he wants to buy a new bike. He has a cash problem, so he goes door to door asking people if he can walk dogs to earn money for his new bike. His friends asked him if he will need help, and he said no thanks, and told them that he was saving up his money. Something funny that happened in this book was when Bonk tried to walk the dogs but they were running around chasing cats and tangling up the leashes. We think Bonk was exciting when he first started walking the dogs. Read this book to find out if Bonk gets to buy his new bike.
We think this book is great because we love the bike that he is imagining and trying to buy. We didn't like when Bonk didn't let his friends help him walk the dogs though. Our favorite part was when Bonk was walking the dogs, because they were acting silly. The illustrations were bad because the faces of the characters did not look much like monsters.
We recommend this book to kids who like monsters, because the main characters are monsters. This book was easy to read, so we think that other second graders would like to read it too. Adults and kids would like this book because it can teach everyone a new way to earn money.