More Homer Price
Written by Robert McCloskey
Reviewed by Brandon G. (age 10)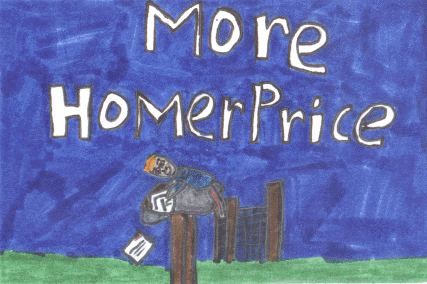 Overall, I thought this is a very interesting book. The author would introduce something strange or mysterious into the story. I wanted to keep reading about it to find out more. It hardly has any boring parts. The book is just the right length - not too short and not too long.
What I liked most about the book is that there were many parts that made me very curious to find out what was going to happen next. For example, when Dulcy's uncle died (who is very rich and famous) he left everything he owned to Dulcy. In the bank, Dulcy's uncle left some seeds in a safe deposit. When Dulcy went to the bank, he got the seeds. At first he thought it was a joke and was about to smash the jar, but his lawyer told him not to because the seeds might be valuable. Dulcy also got a greenhouse and yard from his uncle. Dulcy's uncle was a scientist and he planted many plants before. Everybody in the story was curious to find out what the seeds were going to grow into. The townspeople listed lots of different plants, planted by Dulcy's uncle. I was very curious to find out what plants the seeds were going to grow into.
Another example of how the book kept me curious was when a professor walked into Homer's uncle's (Uncle Ulysses) coffee shop. he starts telling the people in there about his new produce which was called "EVerSoMuchMoreSo." I was very curious to find out what it was and what it did.
I also liked the author's writing style. The words flowed together well and the writing was easy to understand. The book also went into a lot of detail about many things yet the author still made these descriptions very interesting.
What I disliked is that there were too many characters. I did not like it because it was hard to keep track of everybody in the story. Another thing I disliked was that the first chapter was too long. The second chapter seemed strangely short compared to the first chapter.
This book reminds me of the first book of this series called Homer Price. It reminds me of this book because it uses some of the same characters and it uses the same morals.
The moral that I learned from this book is that kids can be useful and helpful to adults. The author showed this lesson many times.
I recommend this book to fourth and fifth graders. I recommend this book because it is the right length for this age. The topics are also interesting for this age. If I could rate this book froma scale from 1-10, I would choose an 8.