A Dollar for A Penny
Written by Julie Glass
Illustrated by Joy Allen
Reviewed by KB (age 7) & VR (age 7)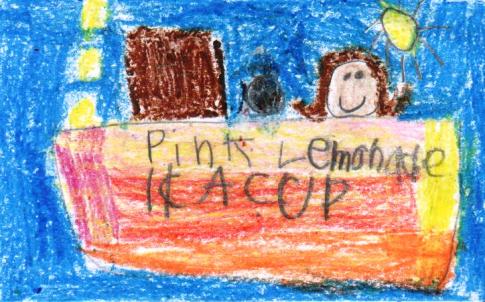 Have you ever tasted pink lemonade? Penny wanted to buy something for her mom, so she sold pink lemonade to try to earn a dollar. She raises the price of lemonade every time someone buys a cup. Penny began selling the cups for a penny each, but by the end of the day, she sold the lemonade for one dollar. Penny's sister Leigh got a cup for free, so Leigh gave Penny some flowers. Penny sold enough lemonade to make a dollar. Read this book to find out what Penny wanted to buy for her mother.
We enjoyed this book because it was easy to read and it gave us an idea to sell lemonade. Our favorite part was when Penny's cousins Kate and Lou are on pogo sticks, because we also like to use pogo sticks. The illustrations were wonderful because they looked real.
We think that people who like to sell lemonade will like this book because that is what Penny does to earn money. This book was too easy for second grade students, but kindergarten and first grade students will probably like it a lot. Even adults will like this book because they might want to read it to their children.