Bunny Money
Written by Rosemary Wells
Reviewed by NN (age 7) & DA (age 9)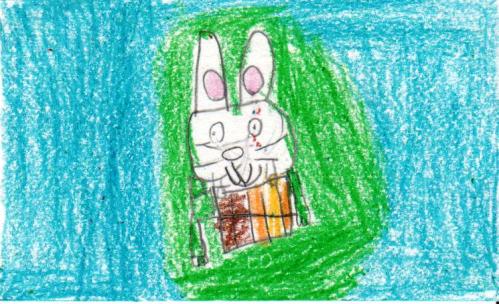 In this book, Ruby and Max saved up money to buy a music box for Grandma's birthday present. On the way to go shopping, Ruby has to pay the bus driver, Max buys lemonade and vampire teeth, and then they both go to the Laundromat to clean the vampire teeth blood off of Max. They also spend money on Max's lunch. When they get back to the store to buy Grandma's music box, they do not have enough money, so they have to buy her something else that is on sale. Max ends up spending their last dollar on more vampire teeth, so they have no money to get home. Read this book to find out how Max and Ruby get home.
We like this book because it's about shopping, and we both like to shop. The illustrations were good because they were very detailed. Our favorite part was when Max put on the vampire teeth, because the fake blood got all over his shirt and it was funny.
Kids who like bunnies would like to read "Bunny Money" because the main characters are bunnies. We think that other second graders would like this book because it was pretty easy to read. We also think that adults would enjoy this book because they could see how children pick out gifts for their parents and grandparents.