Esio Trot
Written by Roald Dahl
Illustrated by Quentin Blake
Reviewed by Keven C. (age 9)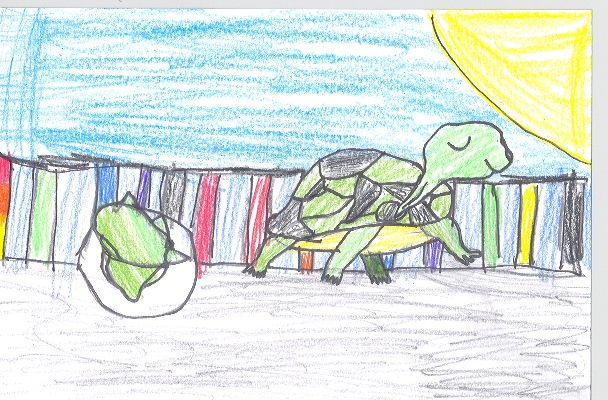 Do you like laughing out loud while reading a hysterical book? Then this is the book for you. Mr. Hoppy is an old man in love with a young woman named Ms. Silver. Mr. Hoppy is too shy to ask her for tea and biscuits. Ms. Silver is a young woman who is in love with her pet tortoise Alfie. This is sad for Mr. Hoppy because Ms. Silver is unaware he likes her. All she cares about is helping Alfie gain weight. Alfie only weighs 3 ounces. To get her attention Mr. Hoppy comes up with a plan to get Ms. Silver to fall in love with him. Will his plan work? You need to read this book to find out. The lesson in this book is to never be too shy to get what you want.
My favorite part is when Mr. Hoppy (as part of his plan to get Ms. Silver to notice him) buys 140 tortoises and only uses 8 of them! Mr. Hoppy is like me because he is too shy to talk to Ms. Silver and I'm too shy to talk to new people I like. This story reminds me of how much I love my pet fish the way Ms. Silver loves Alfie.
I recommend this book to anyone who loves funny Roald Dahl books…and tortoises. I guarantee you will have a good time reading this book.