School of Fear
Written by Gitty Daneshvari
Reviewed by Jorge R. (age 11)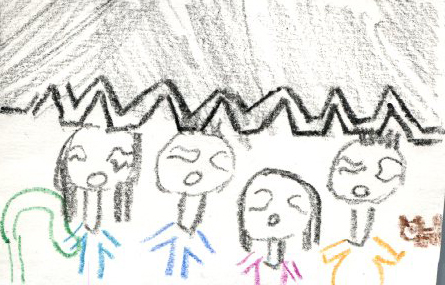 There are four students named Madeleine, Theodore, Garrison, and Lulu. They have to go to a school called "School of Fear". Each kid has a fear of something. Madeleine is afraid of spiders. Garrison is terrified of deep water. Theodore is petrified of dying. Lulu is scared of confined places.
One of my favorite parts in the story is when Theo was being dramatic over his grandma's death (she was 95 years old). That's my favorite part because of how he acted with exaggeration. Theo went into his grandma's room and spotted what was left of her. Theo said to his mother, "I will never die!" I relate to Theo because who would want to die? It's so gloomy when someone dies.
I also admire Garrison because I used to be afraid of deep water. I was worried that I would drown. As I grew older I learned how to swim a little.
The character Madeleine I can relate to as well. She reminds me of my sister. My sister is terrified of spiders, and she dares not to kill them.
I personally think the book was a fun mystery to read. I learned that we should get over our fears. We need to learn from our fears and mistakes.
I recommend this book for kids who like gross and weird things. If you enjoy reading "strange" books, this is one for you.