Karen's New Teacher
Written by Ann M. Martin
Illustrated by Susan Tang
Reviewed by Iness C. (age 8)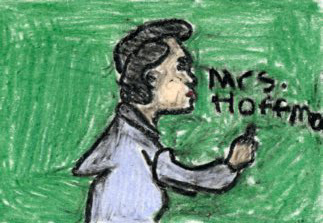 This book is about students at a school that get a new substitute teacher and think she is mean. The main character is Karen who is in the second grade. Her teacher's name is Ms. Colman and she is very nice. One day Ms. Colman is not there so the class had a substitute teacher. The next day her teacher came back to announce that she had to have an operation and she would be out for over a week. All the students were shocked and sad. The substitute teacher's name was Mrs. Hoffman. You will have to read this book to find out what happens.
My favorite part is when all the children threw a party for Mrs. Hoffman because it was a surprise and it was a party with pizza.
I think this book is interesting. I enjoyed it because it teaches you a lesson of class behavior. When you are bad the teacher will give you punishments, but when you are good the teacher is nice. It reminds me of a teacher that I had who was mean to us.
I recommend this book because it teaches you about mean teachers and nice teachers.