Catkid, Three's a Crown
Written by Brian James
Illustrated by Ned Woodman
Reviewed by Cassandra O (age 9)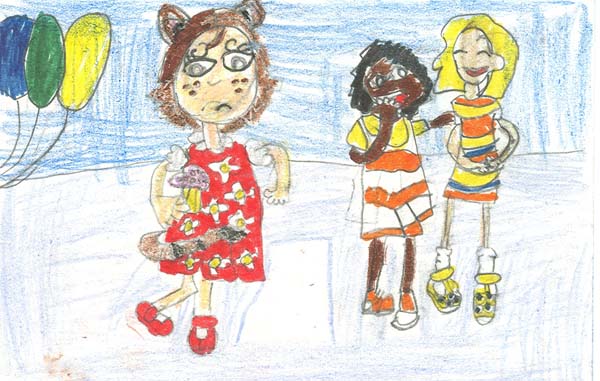 CatKid's a girl who is half-cat and half- kid and has straight brown hair. She has a best friend named Maddie. This book takes place on the playground, in school and in the classroom. Maddie and CatKid are best friends but Maddie helps a new girl. Catkid's jealous because Maddie and the new girl sit together at storytime, eat lunch together and play together at recess. Find out if Catkid and Maddie are going to stay friends or not in this interesting book.
Kristie is the new girl who's shy when she first started school. I remember when I first started school I was shy, too. In the book Maddie is playing and showing Kristie around. In my school, Isabella helped me and showed me around, too. I didn't like it in the book when Kristie was mean. She told Maddie, "My favorite stories are the ones about dogs." She said it because she is trying to separate Maddie and Catkid and Catkid doesn't like dogs.
I recommend this book to first graders, second graders and third graders because this book is interesting and it has some funny parts.