The Gingerbread Man (retold)
Written by Madge Tovey
Illustrated by Wayne Andreason
Reviewed by AJA (age 8)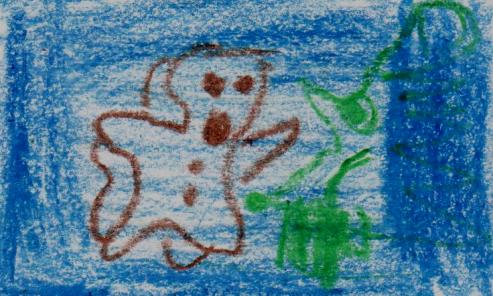 In this book, a lady was making a gingerbread man in the oven, but it came alive. The gingerbread man climbed out of the oven, and started running away. He ran by an old man and woman, a cow, and a horse, until he got to the water. The gingerbread man met a fox, who told him that he would swim across the water, and the gingerbread man could sit on his back. The fox then told him to climb on his neck, his head, and his nose when the water got deep. Read this book to find out what happens to the gingerbread man and the fox. A lesson that you can learn from this book is not to get on a fox's nose because it might eat you.
In my opinion the book was good, because I like the gingerbread man and animals. My favorite part was when the gingerbread man got close to the water and met the fox, because the gingerbread man got on the fox's back. I thought the illustrations were nice because they look like they were colored with a crayon.
Kids who like animals would like to read this book because most of the characters are animals. Second graders would like this book because it was not very hard to read. Adults and kids would like this book because some adults like animals too.