Lizard and the Painted Rock
Written by Elizabeth Lane
Illustrated by Jim Madsen
Reviewed by NN (age 7)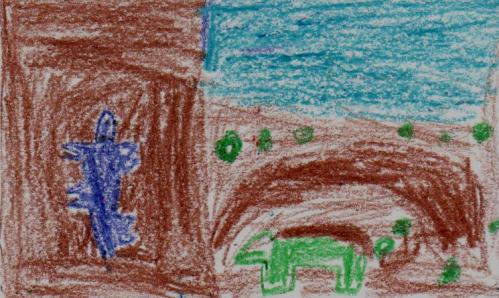 In this book, a man was painting. He painted a rabbit and a turtle on a big rock. The lizard came to look at the wall, and he said "Why am I not painted up there?" Then that night, the lizard was trying to paint himself with the brush on the wall, but he could not. He got paint all over his feet, and he jumped on the wall and got stuck. In the morning, he was still stuck on the wall with the paint. Read this book to find out what happened to the lizard when the man found him the next morning. A lesson that you can learn from this book is that the lizard should have been patient and the man would have painted him, and then he would not be stuck on the wall.
I like this book because the man can paint a lot of different stuff. My favorite part was when the lizard got stuck on the wall and the man and the rabbit tried to get him off of the wall. I like the pictures because they are a lot of different colors, and I like bright colors. I also like how the man draws.
Kids who like art would like this book because the man is an artist, and people might like to see his different paintings. The story was kind of hard to read, so other students in the second grade might need to get some help. Adults would like this book too, because they would like to see the paintings that the artist made.