The Little Red Hen
Written by Byron Barton
Illustrated by Byron Barton
Reviewed by DS (age 8)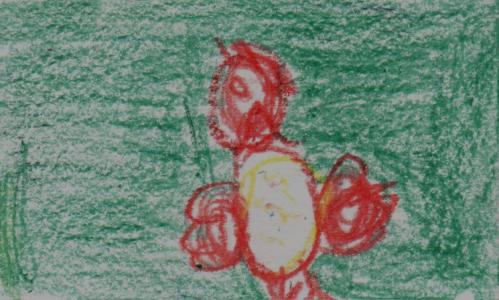 In this story, the Little Red Hen's friends don't help her make bread. They didn't help her plant or grow the wheat, or make it into flour for bread. But, when the bread was finished, the Cat, the Pig, and the Duck wanted to eat some, but the Little Red Hen would not let them because they were lazy and did not help her make it. It was unusual that the animals could talk in this story. The lesson in this story is that when you are lazy, you don't get to do fun things.
I like this book because the Little Red Hen makes bread, and I like bread a lot. The illustrations were helpful because they made me understand the book better. My favorite part was when the Little Red Hen screamed at Cat, Pig and Duck, because they did not get to eat the bread since they did not help make it.
I think kids who like animals would like this story because the animals the Little Red Hen, Pig, Cat, and Duck were the characters in the story. Most second graders would like this book, because it is easy to read on your own. Adults would even like this book too, because it's about not being lazy and it teaches how to make food.