La Tortuga
Written by Elizabeth Lane
Illustrated by Jeff McKellar
Reviewed by VR (age 7)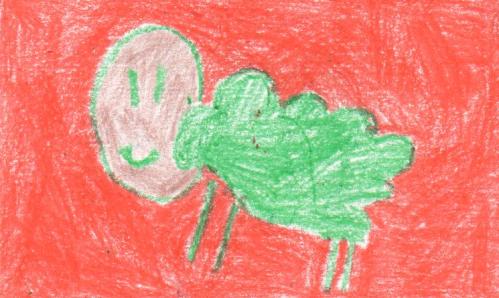 Do you think turtles could play the flute? Did I mention that the flute is made out of clay? There are some kids trying to capture Tortuga because they want to turn him into Tortuga Soup. Tortuga fools the kids because they like to hear him play the flute, so he told them that he could only play if he had more room. Something weird that I learned from this story is that Tortuga likes to eat grapes. A lesson that you can learn from this story is that you should not trust people or take things from people you do not know. If you want to find out what happens to Tortuga, read this book.
I like this book because in the story it said that Tortuga likes grapes, and I love grapes too. My favorite part is when Tortuga plays the flute, because I love how he plays it. I thought the illustrations were amazing because it looks like Mexico.
People who live in Mexico or like Mexican folktales would like this book because the title is in Spanish, and the story takes place in Mexico. I think that this book is easy for second-graders to read because it has pictures to show you what the words mean. Adults and kids would like this book because it is about turtles and about children trying to catch a turtle.