The City Mouse and The Country Mouse
Written by Maryn Roos
Illustrated by Maryn Roos
Reviewed by AA (age 8)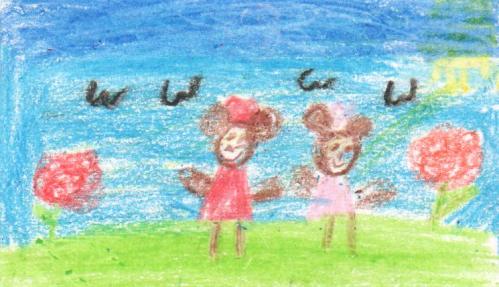 Have you ever been to the country or the city? In this book, a country mouse and a city mouse go to visit each other. When the city mouse gets to the country, she is bored and wants to go back home. She asks her cousin, the country mouse, to come visit her in the city. When the country mouse gets to the city, she is scared and worried, and decides to go back home. A funny part was when the mice were walking in the city, and they almost got stepped on. This story can teach you that you should not take people where they do not want to go.
I like this book because I like the country a lot, and it shows the mice being in the country. My favorite part was when they went to the party in the city, because it was funny to see mice dancing. The illustrations were pretty because they had a lot of detail.
People who like the city and the country would like this story because the setting of the story takes place there. Second graders could read this book because it was easy to read. I think adults and children would like this book because there are a lot of words, but there are pictures to explain the story.