Goldilocks and the Three Bears
Written by Madge Tovey
Illustrated by Suzanne Smith
Reviewed by EA (age 8)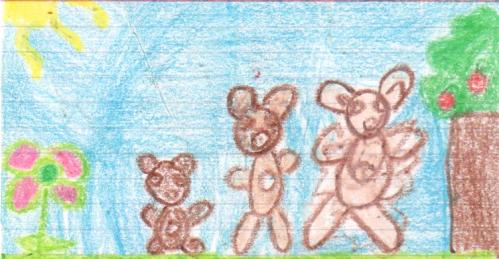 If you like bears, you might want to read this book. This book is about three bears who make porridge, and a girl named Goldilocks who goes into their house, eats their food, and makes a mess. It was funny when Goldilocks broke Baby Bear's chair and slept in his bed. A lesson that you can learn from reading this book is that you should not go into other people's houses without knocking. Read this book to find out what happened when the three bears got back home.
I like this book because Goldilocks broke things and made a mess and it was funny. My favorite part was when they found Goldilocks in Baby Bear's bed, because Goldilocks was frightened like a rabbit. I liked the pictures because they made me think about what was happening, and on each picture there were colors and details.
People who like bears would like to read this story because it it's all about bears who have a messy house. This book was easy for me to read because the words were not too hard. I think that adults and children will like this book because it is interesting, and it teaches a good lesson.