Henny Penny
Written by Carol Byer
Illustrated by Carol Byer
Reviewed by WC (age 8)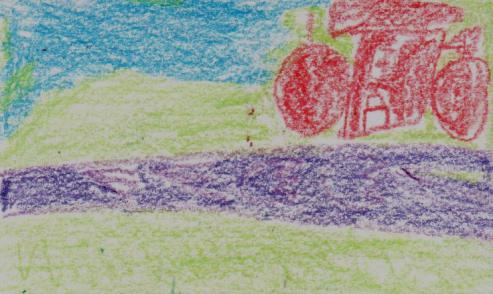 What would you do if someone said that the sky is falling? In this book Henny Penny called her friends to tell them just that. They all ran to Foxy Loxy, who took them on a shortcut to tell the King what Henny Penny told them about the sky. It was unusual that Henny Penny and her friends thought that the sky was falling, because everyone knows that the sky can't fall. Something that I learned from this book is that you should not believe everything that you hear without stopping to think first. You should read this book to find out what made Henny Penny think that the sky was falling.
I liked this book because it was funny when it said that Foxy Loxy licked his chops. My favorite part of the book was when the author made rhymes, because the rhyming names made the book more interesting. The illustrations were helpful, because they wrote the names of the characters so that the reader can know who they are.
Adults and children who like animals and rhymes would like this book because all of the characters are animals. This story was easy for me to read, and I think that most second graders would enjoy it. They would think this book is interesting and hilarious.