The Little Red Hen
Written by Byron Barton
Illustrated by Byron Barton
Reviewed by AS (age 9)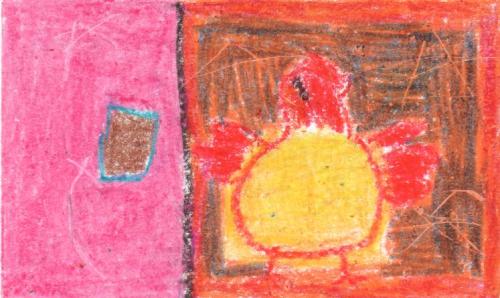 This book is about the Little Red Hen and her friends Cat, Pig, and Duck. The Little Red Hen wants her friends to help her make bread, but her friends do not want to help her grow the wheat, harvest the wheat, or bake it into bread. Something strange about this book is that all of the animals can talk. A lesson that you can learn from reading this book is that you should always help people so that things can get done faster. Read this book to find out if the lazy friends get to eat any of the Litte Red Hen's bread.
I like this book because the Little Red Hen gave her baby chicks some bread, and it was so cute. I do not like the part when the Cat, Duck, and Pig were not helping the Little Red Hen, because it was not nice. The illustrations were good because the animals look like real animals.
People who like bread would like this book because the Little Red Hen grows and makes bread in the story. The story was easy to read, and I think most second graders could read it on their own. This book would be interesting for adults and children because they could learn to help other people.