Look Out Jack! The Giant is Back!
Written by Tom Birdseye
Illustrated by Will Hillenbrand
Reviewed by Jordan (age 7)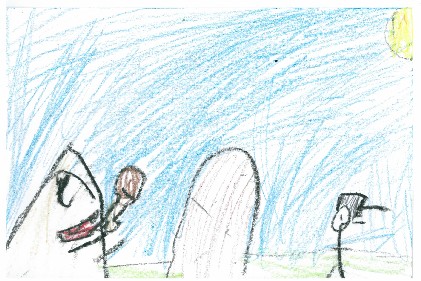 Look Out Jack, the Giant is Back! written by Tom Birdseye anjd illustrated by Will Hillenbrand
Look Out Jack, the Giant is Back! is a fractured fairy tale written by Tom Birdseye. In this story, Jack is having a very peaceful life in his house. One day, the giant's brother, who is taller and meaner than the giant that Jack killed, sees Jack and decides that he wants to kill him. Will Jack get his peaceful life back? To find out, you have to read this story.
My favorite part was when Jack fed the giant too much food. This is the last giant that will bother Jack. My favorite character was the giant because he ate a lot of food. I also liked the pictures. They looked like they were drawn with oil pastels that had been blended. This story reminded me of the regular Jack and the Beanstalk, because there were so many of the same characters.
I recommend this book because it is very good. It was really funny. I think anyone who read Jack and the Beanstalk should also read this book.