Matilda
Written by Roald Dahl
Reviewed by Sophia H. (age 9)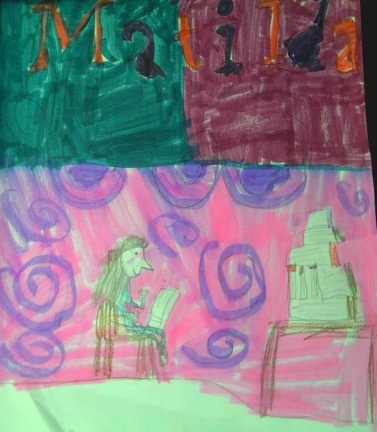 This book is about a little girl who does not like her parents or her brother. She has magic powers in her eyes. She likes to use them on them and other things.
This book has a bunch of lessons here is 1 of them. It is to learn not to do something bad again.Well Matilda has very mean parents and a very mean principal named Miss Trunchbull. The principal puts kids that are bad in this thing called the chokey once Matilda got put in it 3 times. The chokey is a narrow hole in the wall with a door that has nails and glass sticking out of it. Matilda got put in to it because she put itching powder in Miss Trunchbull's pants and she was itching her butt all the way down the hall.
My favorite part in this book is when Matilda put her friends parrot in her chimney and really, really, really scared her mom, dad and her brother. Her dad grabbed a golf club, her mother grabbed a stick, her brother grabbed a lamp and she grabbed a knife. They grabbed them because they were scared and thought it was a ghost. Because it sounded like this "Rattle my bones and Hullo,hullo,hullo!!".
My favorite characters in this book are Matilda, Miss Honey, Lavender and Chopper the parrot. I like Miss Honey and Matilda because Miss Honey was nice to adopt Matilda because Matilda's parents were moving to a different state.
When I read this book I was always wondering what would happen at the end.
I recommend this book to ages 5 and older. I think they will like it because there are a bunch of funny spots in it.