The Trumpet of the Swan
Written by E.B. White
Illustrated by Edward Frascino
Reviewed by Camille C. (age 8)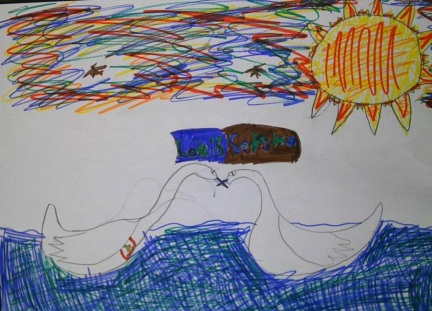 This book is about a swan who lost his voice. His name was Louis. Louis was born in Montana. He had two brothers and sisters, one mom and dad. One little boy named Sam Beaver watched the swan family. Sam was interested in birds.
Louis learned a lesson in this book,he learned not to trust humans because whenever humans asked him to do something he decided to do it, but it caused problems for him.
I have some favorite characters like Louis, Sam, Applegate and Lucas. My most favorite was Louis because he made lots of friends in the book and he found something he really wanted in his life.
This reminds me of when my mom told me the story about her meeting my father.
I liked this book because Louis had many adventures. First he was in Montana then he went to school, true love, stolen trumpet, getting money, camp Kookooskoos, a rescue, Boston, the Ritz, Philadelphia, Serena, Billings, and Spring. There was always something going on!
I recommend this book to somebody who likes romance, adventure and discoveries.