Maximum Ride: The Angel Experiment
Written by James Patterson
Reviewed by Katherine L. (age 10)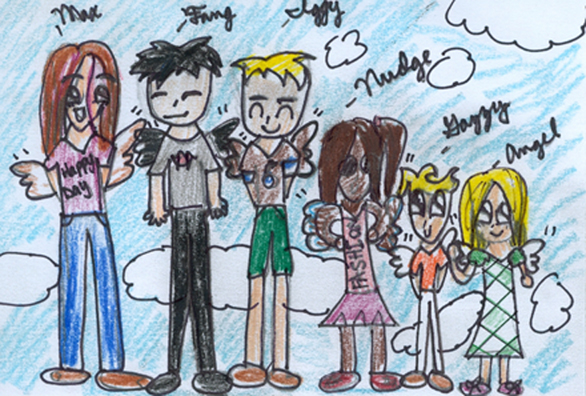 Maximum Ride is a series about a girl named Max, short for Maximum Ride. She and her friends Fang, Iggy, Nudge, Gazzy, and Angel were taken from their parents and were tortured by being tested on and having needles poked etcetera. In the end all the tests made them only 90% human the other 10% was wings!
They escaped from the school, what they call the experiment lab, and fled. Now they live in the mountains but wolf-men, what Max calls erasers, come back and steal the youngest child Angel. While Angel is at the school she is experimented on again and again. When she is there she learns some interesting things like, something about their profile in the Institute of Higher Learning in New York City. They go to New York City but there is no Institute of Higher Learning? Is there?
This book is very exciting!!!! I love how the author made it so it feels like you're right there in the wonderful story. This book is full of surprises such as what she really feels about Fang, if she IS supposed to save the world and get revenge on someone she thought she could trust. Max reminds me of my own life because of how she acts like a mother and always is worrying. I hover protectively over my friends, like making sure they wrote down their homework, and I am always worrying.
This story is for 9 and up, good for all ages. I say 9 because the action might be too much for some children. It is filled with drama, action, mystery, and some romance. I hope you go to the library or bookstore and get it is so great. You will not be sorry that you came to read Maximum Ride by James Patterson.