Diary of a Wimpy Kid
Written by Jeff Kinney
Illustrated by Jeff Kinney
Reviewed by Dylan L (age 8)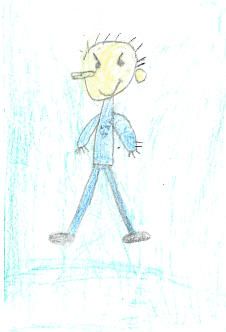 This book is called Diary of a Wimpy Kid by Jeff Kinney. It's about a kid named Greg. Greg is in big trouble because it's summer vacation and he's going into middle school. He asks his older brother for advice, but that doesn't work.
The next day was the first day of middle school, but as soon as he steps inside he gets trampled over by a bunch of "morons." Will Greg survive middle school? Read the book to find out.
Diary of a Wimpy Kid is a book with lots of mysterious stuff in it and Greg, the main character, gets in a lot of trouble. Greg ends up making one friend and one friend only. His name is Rowley. Rowley never gets in trouble. Will Rowley get in trouble? Found out more in the book.
I like this book because it has a lot of action like when Roderick tricked Greg into thinking he slept the whole summer. It also has adventure like when Rowley and Greg went on a Halloween trip to a hunted house. It has mystery. It makes you wonder if Greg will like being a tree in the play.
I recommend this book for people who like action and adventure.