Extra Credit
Written by Andrew Clements
Illustrated by Mark Elliott
Reviewed by Nisha S (age 9)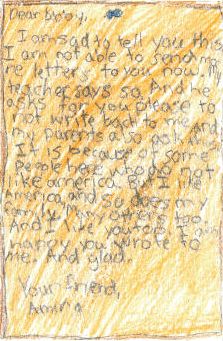 Abby Carson just doesn't like to do her homework. It's not that she can't. Soon she gets warned that she might have to stay back because of her goofing off. So Abby takes on an extra credit project; find a pen-pal in another country.
Abby sends her first letter to a small school in Kabul, Afghanistan and Sadeed Bayat is chosen to be her pen-pal - in a way. In Kabul, boys Sadeed's age are not allowed to interact with girls Abby's age. Amira (Sadeed's little sister) agrees to write letters and Sadeed helps Amira with her English. They run into problems throughout the book like: Afghans not trusting Americans, or Sadeed keeping secrets from Amira, or Americans not feeling safe at school.
Sadeed and Abby soon realize that their interacting is becoming a growing problem in both areas, and things aren't as easy as they first thought it would be.
I like this book because the writer gives you a clear picture of what is happening in the book. I also like it because this story could really happen in real life. It made me think and wonder about the war going on in Afghanistan and the differences between them and us.
I recommend this book be because it tells the story of what two friends that are pen-pals do about a problem for their growing friendship.