The Magic Half
Written by Annie Barrows
Reviewed by Grace B (age 8)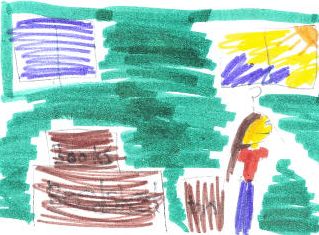 What would you do if you found glasses that are a time machine? What would you do if you were stuck in 1935? Miri hopes she knows.
One day she looks through the lens of her old glasses and they suck her into her house. But not her house, you see Miri went to her house about 80 years ago and there was a different owner. She has to get out! But while Mari is there she finds out there is a crook and has to save a girl named Molly from him forever. How will Miri get out? How will Molly get out?
I love this book because it is full of magic like when Molly turns invisible. I also liked this book because while I was reading I became more curious about the characters and how they would get out of their situation. I thought that the character Horst was a little bit scary because I thought that he may hurt someone before the story was over.
I recommend this book to people who like stories that have a lot of suspense. I think they will enjoy reading this book.