Extra Credit
Written by Andrew Clements
Illustrated by Mark Elliott
Reviewed by Katie C (age 9)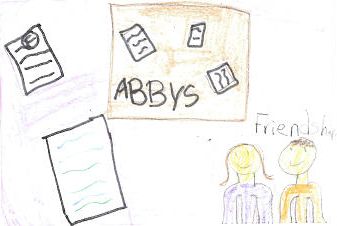 This book is called Extra Credit by Andrew Clements. It's about a girl named Abby who falls behind in her grades. Then does an extra credit project.
She picks a pen pal project. Her teacher gives her some options of a couple of ideas for places to write to. She picked Afghanistan. She starts sending letters to Afghanistan. When they start sending letters she sends her first letter with a picture of the climbing wall at her school. She gets a letter back and she gets a picture with her letter. (By the way Abby sends a litter to Amira but Abby doesn't know Sadeed, Amira's brother is writing it). They keep on sending letters. But then something mysterious happens that will change it all.
I like the book because it was mysterious like when Sadeed's teacher told him he could not write letters anymore. My favorite character was Abby because she liked writing. This book made me feel like I wanted a penpal because I could learn a lot from a penpal from a different country.
I recommend this book because it's very suspenseful and it's about a girl named Abby from the U.S.A. and a boy named Sadeed from Afghanistan who send letters to each other. Don't you think it would be awesome to write letters to each other and see other people's personalities? I think it is.