Captain Underpants
Written by Dave Pilkey
Reviewed by KW (age 7)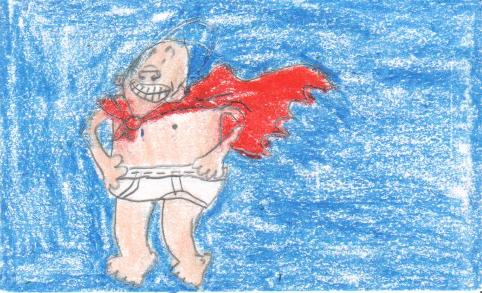 Do you like action, thrills and laffs? (That's how Dave Pilkey spells it!) If you do, read Captain Underpants. This is a book about two boys named George and Harold who turn their principal, mean old Mr. Krupp, into the greatest superhero of all times-- The Amazing ________. You will discover his superhero name and what he is amazing at when you read the book.
Everytime he hears a snap, he turns into the hero of the story. He saves the world from evil like Dr. Diaper with the help of George and Harold. This book also has a Flip-a-Rama so you can animate the action! This makes the book much more fun to read. My favorite part in this book is when George and Harold shot fake doggy doo-doo under Dr. Diaper's feet and Dr. Diaper thought he had pooped his pants and was EMBARRASSED! This makes the story kind of gross but even funnier. I like the illustrations because they are so so funny and make me laugh.
I recommend this book because I think you will like to read about Captain Underpants when he saves the world from evil. Kids will find his adventures funny, but parents and teachers might be grossed out.